Home
|
Blog
|
( 11 )
|
Subscribe
Posted by
Felix Okoli
on Wednesday January 6, 2016 at 16:30:57: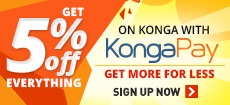 It's so easy to eat yam after cooking it or buying a piece of it from the market but with KongaPay, you can buy many tubers of yam because it really saves you money. The more you use KongaPay to make your payments at Konga, the more money you'll save with the 5% being offered for now.For those who don't already know about it, KongaPay is a new online payment platform introduced by Konga, a top shopping website in Nigeria. KongaPay works with your bank's registered phone number and allows you to make payments online directly from your bank account without the need for a debit or credit card. It's a virtual and cashless payment system that is being promoted by Konga with a 5% discount.I recently had an experience with KongaPaya and had no other option but to promote it because it's one of the best payment systems I've seen in Nigeria. Once you are already registered with KongaPay, your payments are easier online and you can also get refunds much quicker. What now stops you from shopping online when you can make payments in Nigeria without the need for a debit or credit card? One of the benefits of using KongaPay is the fact that it's easy to use as all you need to provide after you are logged into your account is the pass code or token sent to your phone and the transaction will be completed. After you've made payment with KongaPay, your bank account gets debited while your payments are sent to Konga. Reversals are also easier and quicker. Another benefit of KongaPay for the mean time is the fact that you'd get a 5% discount when using it to buy anything you want that is already listed on Konga. What more could we have asked for?Now, let's talk about the 5% discount. Let's assume you want to buy GSM credit from Konga worth N10,000 for MTN being sold on Konga, you can order for it by simply making a payment of N9500. You will be credited with an airtime value of N10000 and that automatically keep N500 in your pocket.Let's assume another scenario like paying for your DSTV subscription and you are a premium user paying about N13000 per month, you will only need to pay about N12350 and save N650 but will still be credited with the full payment because you used KongaPay as your means of payment.A third scenario could be when buying electronics from Konga and you've decided to pay with KongaPay. You may have decided to buy a 55 inch LG OLED TV being sold for about N500,000, you will only have to pay N475,000 and save N25000 if you used KongaPay as your means of payment. The N25,000 discount is really bigger than the minimum monthly wage many Nigerians receive as at today.You'd see that from our above analysis, 5% is no small thing because even though it may look like little money when buying items of a low value, you'd really be saving big money when you buy items that are big in value. The conclusion is that the more money you spend on KongaPay, the more money you'd be saving as long as this discount offer remains.All a person needs to do to get the from the 5% discount which
KongaPay
offers is to first
get registered for KongaPay
and then use it as his default means of payment when shopping on
Konga
.
---