Home
|
Blog
|
( 11 )
|
Subscribe
Posted by
Felix Okoli
on Tuesday January 26, 2016 at 11:35:26: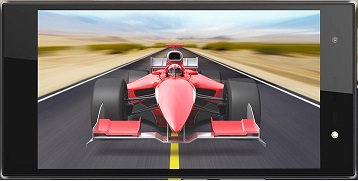 What is the price of Infinix Zero 3 phone in Nigeria? Well, it currently sells for N53000 at
Jumia
and N55000 at
Konga
and this is as at today o. Prices are subject to change later as Naira falls and rises relative to the US dollar or for any other reason.I recently noticed that Infinix Zero 3 X552 is being sold on Jumia Nigeria and the price tag is N53,000. Do you think it's too expensive for a phone? Well, I think that considering the fact that Infinix Zero phones come with high quality features, it's not too much to pay.I guess one of the features that makes the Infinix Zero 3 phone look a bit expensive than it's predecessor, the Infinix Zero 3 priced at N46,000, is the fact that is has a whooping 20.7MP back camera. This makes it good enough to work as a Digital camera apart from being used as a mobile phone and mini tablet. It would be able to capture images and videos much clearer and sharper than many digital cameras I know of. I say this because I have a 10MP Nikon Digital camera and it's pretty good for recording videos. The Infinix Zero 3's camera is powered by a SONY's IMX230 CMOS sensor.Another cool feature of this new Infinix Zero phone is the longer battery life and this is as a result of it's 3030mAh battery capacity and this allows it to last longer before needing a recharge despite the amount of work it can do for you.Audio quality output and input on Zero 3 is awesome and it doesn't matter if you are calling someone from a close or faraway distance as you'd get to hear and speak to them really clearly without straining your ears or voice.SIM card: It accepts up to 2 SIM cards making it a dual sim phone and the accepted SIM cards size is a Micro-SIM.Other features:
Display Size: 5.5 Inches
Processor: 2.2GHz Octa Core
RAM: 3GB
Internal Memory: 16GB
Operating System: Android Lollipop 5.1
Rear Camera: 20MP
Front Camera: 5MP
Battery: 3030mAh
Connectivity: Bluetooth, Wi-Fi
Colour: Anthracite
Model No.: X552
Camera With CMOS Sensor
X User Interface
Infinix Zero 3 is the best Android phone produced by Infinix Mobility as at January 2016.Can I get the Infinix Zero 3 for cheaper than the listed price? Well, it's possible if you were buying an unboxed or fairly used one from another person. It may also get discounted later on as shopping websites and sellers in Nigeria do a promo during festive days in Nigeria.Where can I buy Infinix Zero 3?
You can buy it online at the following stores:
Konga
Jumia
You can also buy it offline or online from
Yudala
, the computer village at Ikeja Lagos or any other major android phone retailer close to you.
---
Comments:
Re: Price of Infinix Zero 3 in Nigeria
Posted by Dotun on Tuesday January 26, 2016 at 16:47:33: Na wao. It looks too expensive now. I go wait for another Christmas to buy my own
---